Rick E. Peterson
Dr. Rick Peterson was born in Park Ridge, Illinois and he grew up in Arlington Heights. He decided to become an Optometrist while participating in mission work in the Dominican Republic with Dr. Oswald. Dr. Peterson reveals, "This experience taught me how important vision is, and the fulfillment I could achieve in helping others."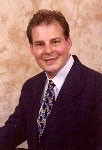 Dr. Peterson attended the University of Iowa, and continued his education at the Illinois College of Optometry in Chicago, where he received his BS in Visual Science and Doctor of Optometry degree. He also received awards for his work in pediatric/binocular vision and advanced ophthalmic care.
Dr. Peterson is the president of The Laser Network, executive board member of United Eye Care Providers, and a former clinical instructor for the Illinois College of Optometry. He is a graduate of the Disney Institute/Essilor MBA program. He is actively testing new ophthalmic designs for glasses and contact lenses. He frequently lectures on binocular vision to teachers, parents, and students. Dr. Peterson also presents seminars on the benefits and newest technology of LASIK refractive surgery. He is TPA certified and is a specialist in binocular vision and focusing disorders along with advanced diagnostic techniques of ocular, orbital, and neurological disorders.
Dr. Peterson lives in Lemont with his wife Julie, and their 3 children. They are active in St. Alphonsus parish and support local organizations for children with special needs.
Your Professional Eye Doctor in Manhattan, IL and Southwestern Suburbs
If you have vision problems, come see our clinic in Mokena, Crestwood, or Manhattan, IL for an eye doctor with the services you need. Absolute Vision Care is home to an assembly of highly educated professionals who use top-of-the-line methods and equipment. We are dedicated to making your vision as perfect as it can be.
Each of our office locations feature autographed memorabilia to amuse and entertain, and our friendly staff will make you feel right at home when you come in for your appointment. Your complete eye health is our top priority, so you can rest easy knowing that we have your best interests at heart.
Eye Care at Your Pace
Our doctors will never push you to undergo a treatment or surgery you don't absolutely need. We're always glad to answer your questions about any procedure or treatment plan you're not sure about. We also offer emergency services when you need to quickly remedy a problem.
Eyewear You Can Trust
If you're not completely satisfied with your eyewear, we have a 30 day, no-questions-asked return policy. You can return the glasses outright, change your frames or lenses for comparably priced ones (at no additionalcharge), or upgrade to higher-priced frames and simply pay the difference.